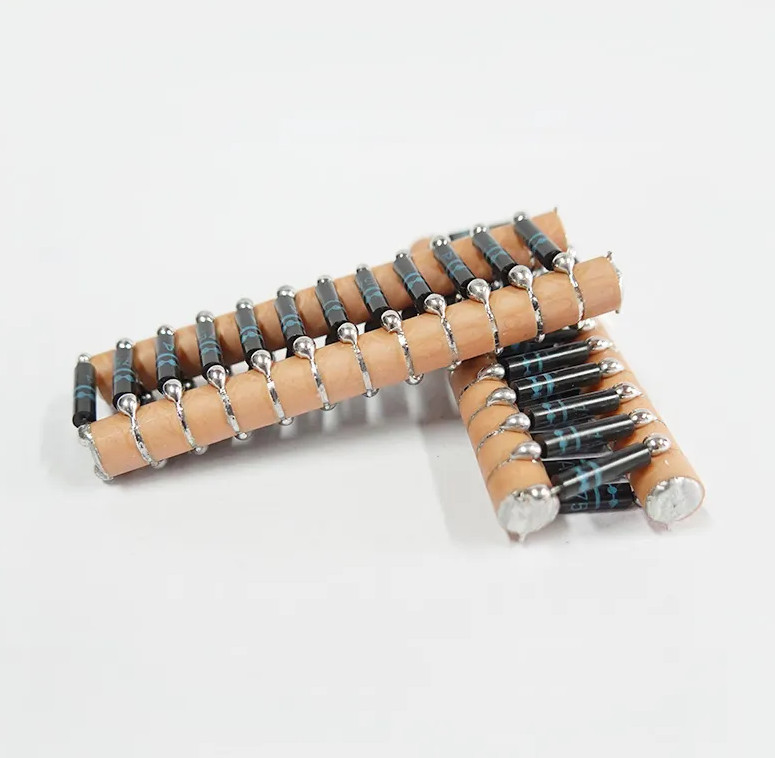 Capacitor Stacks 20kV 500pF
Capacitor Parameters: 15kV 150pF Blue Coating
Capacity Accuracy: (K) ±10%
Operating Temperature: -25 to +85°C
Ceramic Dielectric: Y5T
Unit price: please contact us
●Common 12x voltage
●High Voltage Cascade for use on powder coating guns are available directly, see here >>

Product Function
Voltage Multiplier & capacitor stacks are mainly used in electrostatic generators, electrostatic powder guns, voltage multiplier circuit modules, high voltage negative ion generators etc.
Application areas
* High voltage electrostatic generators.
* Hand-held powder coating guns.
* Electrostatic standing machines for meltblown fabrics.
* Voltage doubling circuits.
Datesheet
Datasheet_20KV500PF
Product Name
Voltage Multiplier
Specification
20KV/500PF+T75A
Real Picture
Outline drawings and dimensions
Electrical performance data
Capacity
Allowable capacity deviation
Rated Voltage
Testing voltage
Dielectric loss
Insulation Resistance
500pf
±10%
DC20KV
DC30KV
<1%
>10∧5MΩ
HV diodes
2CL75A
Packing Method
Inner packing: film bag/small carton; Outer Packing: carton
Storage Method
Temperature: 0~40 ° C Humidity: <80%RH
Remark
We will get back to you in 8 hours. Promise!
Get factory price for this