CT81 Disc Capacitor - High Voltage Ceramic Capacitor
CT81 series radial leads high voltage disc ceramic capacitors.
The capacitors consist of a ceramic disc that is silver plated on both sides.
Connection leads are made of tinned copper having diameters of 0.8 mm.
The coating is made of blue-colored flame-retardant epoxy resin in accordance with UL 94 V-0.
◆ SPECIFICATIONS
 

Rated voltage Range

 6kVdc to 50kVdc

 

Capacitance range

 10pF to 10000pF

 Capacitance tolerance

 Standard: ±10%

 

Operating frequency

 Max 5Mhz

 

Dissipation factor

 Min 0.05%

 Temperature properties

 Min ±0.5%

 

Operating temperature range

 -40°C to +85°C, 125°C parts available
◆ FEATURES
• High capacitance in small sizes
• low losses, high-frequency part available
• Wide range of different lead styles
• Radial leads disc type, single layer bare rectangular ceramic capacitor available
• Bare disc ceramic capacitor without lead available
◆ COMMON MODLES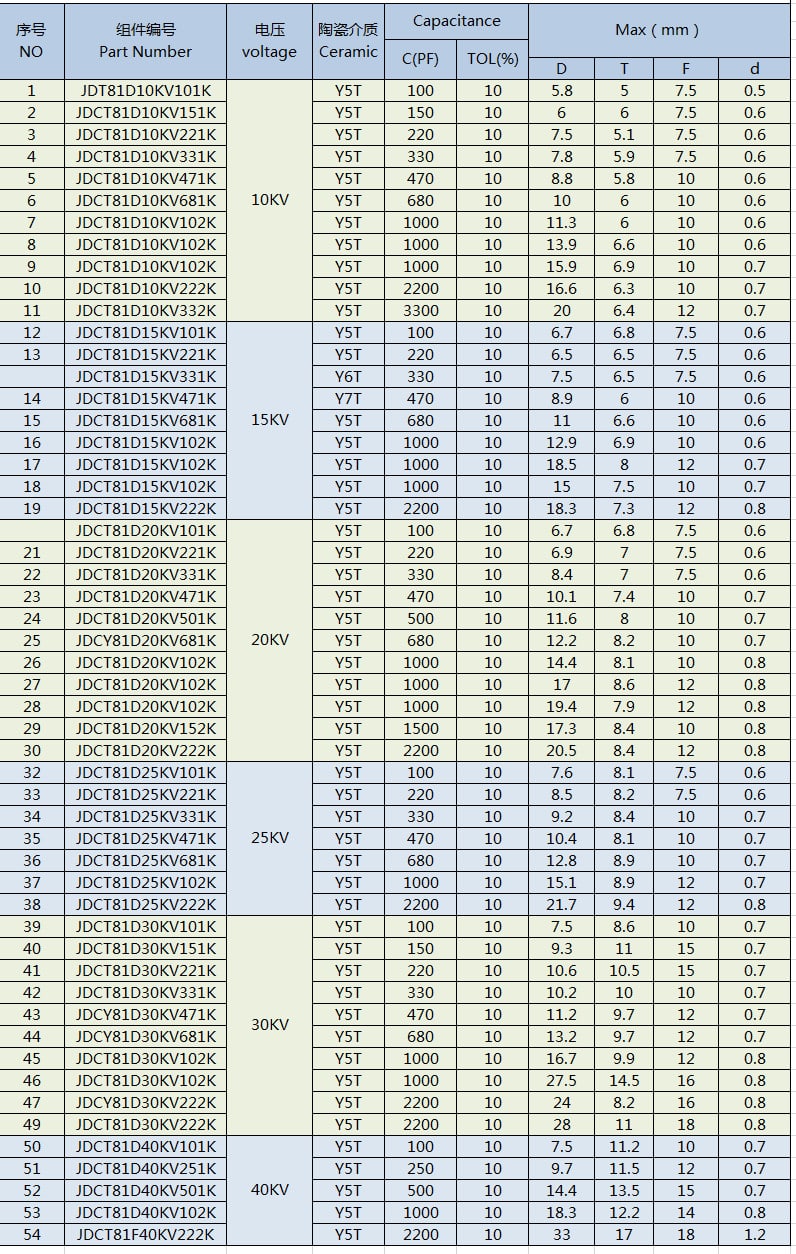 ◆ APPLICATIONS
These capacitors are ideally suited for timing /precision circuitry, energy storage, DC blocking, snubbers, transient suppression, decoupling, resonators and EMI filtering applications, such as
• High voltage power supplies
• Voltage multipliers
• By-pass circuits, Coupling circuits
• Lighting Ballasts
• Filters, EMI / RFI filters, Snubber circuits
• High voltage pulse generator, X-ray generators
◆ QUALITY CONTROL
• Capacitance
• Tolerance
• Dielectric withstanding voltage
• Dissipation Factor
• Insulation Resistance